Human capital in the Tampere Region has internationalised in recent years, with HEIs in particular playing a key role in attracting international experts to the region. The number of foreign higher education degree students, research personnel and foreign labour has increased steadily over the past few years. The number of foreign degree students continued growing in 2013, while growth in the number of research personnel came to a halt in 2015.
Unemployment statistics show that we have not been able to fully integrate international experts into the region's business sector. Employing foreigners is even more difficult in a challenging employment situation. Immigrant labour, i.e. employed, unemployed and users of labour services, totalled approximately 6,800 persons in 2016, approximately 34.5 per cent of whom are unemployed.
In recent years, the Tampere Region has suffered from a decrease in exports and, in particular, the falling value of industrial exports has tested the region. However, in 2015, industrial exports remained on a par with the previous year's levels (1.0%). Even though exports could have been stronger, there are still inspiring examples of growing and internationalising companies to be found in the Tampere Region.
Tampere-based Framery is an example of a growing and internationalising startup, which has managed to find new markets in a very traditional manufacturing sector by meeting the needs of a modernising working life. Voted the Growth Company of the Year in Pirkanmaa in 2015, this company was granted, among others, Tekes YIC funding and a Finnvera microloan. Today, Framery is one of the fastest growing companies in its field. A large percentage of its production is exported, but all products are still manufactured in Finland, in the Tampere Region.
In 2015, the number of export company locations increased 3.3 per cent in the Tampere Region. Customs statistics monitor the number of locations of companies dealing in foreign trade with a value over EUR 5,000. Foreign trade in services is not included in the statistics.
There are 330 export customers registered with Customs in the Tampere Region. Registration is mandatory for companies that make at least five export shipments each year. 52 per cent of these are industrial companies and 28 per cent commercial companies. 25 per cent of the registered industrial export companies are manufacturers of machinery and other equipment, and approximately 14 per cent operate in the rubber and plastics industry.**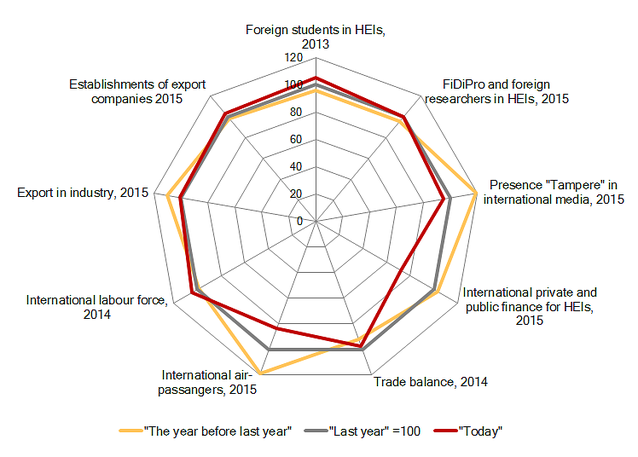 However, there is much room for improvement in the degree of company internationality, when examining the issue using the data obtained from Vainu's internationality filter. Only 79 Tampere Region companies show internationality in the Vainu service. Of these, the single largest sectors are the software sector and related activities (26.6%) as well as the manufacture of machinery, equipment and vehicles (11.4%). Based on data from Vainu, only a small percentage of the companies offer website versions in a foreign language. Only a fraction of the companies have websites in Finnish and English as well as another language.**
Regional attractiveness and accessibility indicators have also taken a downward trend (the media presence of Tampere in international media -5.1% and international air-passengers at the Tampere-Pirkkala Airport -16,3 %.) Tampere's exposure in international media has gone down in recent years, even though it is far better than it was at the beginning of the 2010s. Although exposure was increased through successful campaigning and marketing as well as positive current topics associated with Tampere, Tampere has not seen an equivalent rise in international exposure in the past few years. Even though the number of international passengers at the Tampere-Pirkkala Airport has dropped dramatically, a similar change has not been seen in, for example, the number of overnight hotel stays by foreign tourists in the Tampere Region, as the number of overnight has, almost without exception, risen throughout the 2010s. However, improving the accessibility of the Tampere Region is a key objective, for example, in terms of the conditions for international business.
In an effort to improve Tampere's international exposure, the Tampere- All Bright! Ambassador network was launched in 2015. The network has grown rapidly, with ambassadors representing numerous (approximately 20) nationalities. There are currently over 60 ambassadors, who present and promote Tampere in, for example, their own social media channels. Read more about the Ambassador network. 
**Source: Vainu, status September 2016